Traffic Calming Recommended By Trenton Traffic Gurus
On Tuesday, June 22nd at 7:30pm, Eric Jackson, Hoggarth Stephens, Sean Semple, and Anthony Santora from Trenton's Traffic Division met with the Hiltona Association's Executive Committee. The meeting was to discuss the results of a traffic study that was recently completed in Hiltonia.
The traffic study was conducted at two points along Hilvista and one point on Cadwalader. The study showed that there are definately speeders in our neighborhood, and that many people use Cornwall as a cut through.
Eric recommended increased signage (some of it is already in place), increased police enforcement, and some traffic calming measures. Pictured below (special thanks to Sean Semple) is one particular method using various islands to cut down the size of the street. The concept is that the smaller streets influence drivers to reduce speeds.
The Hiltonia Association needs to conduct a survey about whether residents are in favor of / disapprove of the proposed traffic islands. Please take time to voice your opinion in the Vote On It! section.
Sincerely,
Michael McGrath
---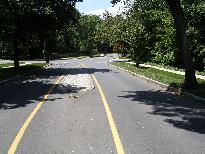 Cobblestone Island 1
This island requires the least amount of space but does require yellow lines to alert drivers.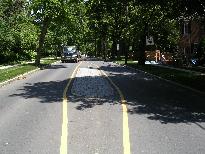 Cobblestone Island 2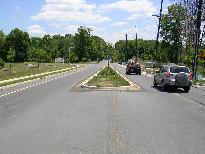 Raised Grass Island 1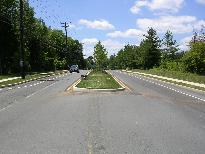 Raised Grass Island 2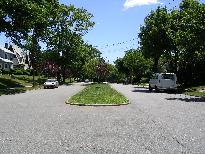 Raised Grass Island 3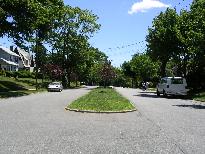 Raised Grass Island 4